Traditional
TANKLESS COIL OIL BOILER
Circa 1940 – Today
NEW!
ASCENT COMBI
Heat and Hot Water Boiler
2017 – Today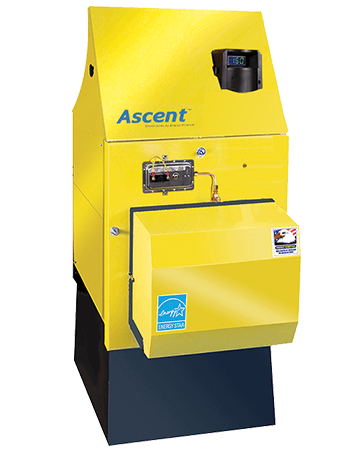 If you're looking at this page, odds are you have a tankless coil heat and hot water boiler (click here for natural gas or propane). This technology has been around and has gone virtually unchanged since the 1940's. With that long history, it's only natural to wonder how the Ascent Combi stacks up, and why it looks and runs so differently.
How does the Ascent Combi compare?
CATEGORY
TANKLESS COIL
ASCENT COMBI
PROVIDES HEAT AND HOT WATER
Space heating and hot water average demands
PRICE
Competitive first installed cost
CONTINUOUS HOT WATER FLOW*
Enjoy long hot water showers with steady temperatures
SOUND LEVEL
Whisper quiet operation with optional silent burner cover
EFFICIENCY*
Cut up to 20% off tankless coil boiler fuel bills
EASE OF CLEANING and SERVICE
No tankless coil to clog, corrode, or cause early boiler failure
PROVEN 30-YEAR DESIGN
Lifetime Limited Warranty with specially formulated steel pressure vessel superior in quality to cast iron
MULTI-FUEL
Easy to convert from oil to natural gas or propane
*CONTINUOUS HOT WATER FLOW
For above average hot water use and maximum efficiency see our System 2000® Frontier, Resolute™ and Accel CS™ here.
Tankless coil boilers typically fail at the coil flange or cast iron sections.
Ascent has no coil flange or cast iron sections to fail.
Boilers with draft regulators shown above waste a huge amount of energy, you may also notice a noisy slam when the burner starts. 
No Energy Kinetics boiler requires this fuel wasting device!
See the Difference. Enjoy Whisper Quiet Savings.
These infrared images show a typical tankless coil oil boiler wasting heat through a glowing hot burner door compared to the well insulated and quiet design of the Ascent Combi oil boiler that effectively captures heat and sends it to your home. Wasted room heat is also vented out the draft regulator on cast iron boilers.
Photos courtesy of NORA presentation at Southern New England Energy Conference.
Why Now?
Energy Kinetics is family owned and operated and was founded in 1979 with the vision that heating and hot water systems can be much more efficient if they have simple, smarter controls and design, and are built to last.
In 2017, we decided the timing was right to take our proven 30 year spiral boiler platform and innovate to provide heat and hot water, but without the need for a storage tank…all at a price point that's competitive with tankless coil boilers.