Typical Condensing Boiler Design Issues
Over time, tiny air passages become fouled by minerals and pollutants causing energy inefficiency. In addition, these tiny openings are difficult to service.
Restrictive passages require pumps and piping that reduces efficiency below the AFUE rating.
The 5 Things You Should Know Before Buying a Mod-con, Wall Hung or Combi Condensing Boiler
Inadequate Parts Availability
Mod-con and wall-hung boilers frequently undergo design revisions and model number and name changes. As a result, model end-of-life may occur in as little as two to three years. With so many modifications occurring, identifying and sourcing the correct repair parts may be difficult. Since supply houses sometimes stock only the current revision's repair parts, long waits may occur even if the parts are obtainable. Also, buildings can freeze without an operable boiler, and the warranties on many mod-cons are void if restrictive antifreeze guidelines are not followed.
Wall Hung and Combi condensing boilers have poorly designed critical water and air passages which easily become fouled over time reducing efficiency, requiring more maintenance, and shortening the boiler's life. Although these tiny passages and tight tolerances may seem impressive from a manufacturing perspective, the reality is service technicians cannot access many of these passages, making service difficult and expensive. And unlike chimney vented atmospheric gas boiler designs, these types of boiler designs require routine service. The Bottom Line: Competitor design decisions to lower manufacturing costs undermines the overall quality of the boiler, compromises its long term performance, impairs the unit's serviceability, and creates issues that are not covered under warranty.
Built Using Inferior Materials
Critical components of mod-con, wall-hung, and combi condensing boilers are constructed using aluminum or low-grade stainless steel. These materials are not sufficiently corrosion-resistant to allow the components to deliver long-lasting condensing performance. In fact, field tests not only show this rapid pitting and corrosion, but clearly illustrate the heating unit's degradation in its condensing performance under these conditions.
Require Supplementary Piping and Pumps
Did you know these types of boiler designs often require supplementary piping and pumps that short circuit water flow through the system? This condition prevents condensing, wastes valuable energy, and makes the units difficult to service. These designs are so restrictive that in addition to a separate heating pump, they require a dedicated pump to flow water through the boiler itself.
Increased Heating Bills & Wasted Energy
Temperature reset controls for these types of boilers are often permanently set at artificially high operating temperatures to avoid costly call backs for under-heating. This causes the boiler to run hotter all year round in order to quickly respond to room temperature changes. Running hotter means burning more fuel and higher heating bills. In addition, most condensing boilers have no thermal purge cycle, reducing condensing operation. The lack of a thermal plunge causes the unit to finish hot, wasting energy in the boiler and piping system.  Less condensing means condensing boilers typically miss an opportunity to flush and keep flue passes cleaner.
Avoid Condensing Boiler Issues with the Boiler That is Efficient and Built to Last
Introducing the Accel CS Condensing Boiler
To overcome the inefficiencies of these poorly designed combi boilers, Energy Kinetics created the Accel CS Condensing Boiler, the most efficient and longest lasting condensing boiler on the market. Not only is the Accel CS constructed with superior materials, it was designed by Energy Kinetics' engineers who possess a long history of engineering excellence and leadership in the industry.
Why the Accel CS Condensing Boiler is the Informed Consumer's Choice
1. Stronger, Thicker, and More Corrosion Resistant Materials
The Accel CS pressure vessel is made from high grade domestic stainless steel, not foreign stainless steel or aluminum. Additionally, our air and water passages are wide open, a design innovation that eliminates the need for additional energy-consuming circulators which are required on condensing boilers with small water passages.
Accel CS
Wide Open Air and Water Passages
SmartBoost Outperforms Outdoor Reset Controls
Made In the USA
2. Easy to Service and Lifetime Warranty
Our air passages are built with super turbulators for better efficiency and easy access for cleaning (if necessary). And our heat exchanger is backed up with a residential lifetime limited warranty.
3. High AFUE plus Thermal Purge for the Best Efficiency and Clean Operation
Accel CS's AFUE rating is up to 97 which is the best in the industry. Although 97 is impressive, Accel CS is actually much more efficient than other systems that earn a similar high AFUE rating due to its thermal purge. The thermal purge anticipates the end of a heat call and pumps the heat remaining in the system to the top of the hot water storage tank or directly into the living space. This guarantees Accel CS runs more efficiently every cycle and condenses more to stay cleaner. In addition, it condenses more during the next cycle, delivering the best possible energy savings throughout the day and night.
Read the US Department of Energy Lab Study which shows that even our non-condensing boilers have a higher real annual efficiency than 95 AFUE modulating condensing boilers.
4. SmartBoost™ for Better Comfort and Savings
Accel CS's performance is significantly enhanced by an outdoor temperature compensation innovation called SmartBoost. SmartBoost runs the Accel CS boiler at a lower temperature whenever possible. This greatly improves every condensing opportunity and consistently consumes less fuel. Additionally, if the boiler temperature is not sufficient to answer a thermostat call quickly, SmartBoost automatically raises the temperature of the boiler. SmartBoost is not available to other manufacturers, so their systems often run hotter all year and can't respond to night setback thermostats, consequently wasting energy dollars.
5. Made In USA
The Accel CS is built in the US with American made quality and Energy Kinetics manufacturing excellence. From the pressure vessel to the Mil-Spec manufactured Energy Manager control, Accel CS is one of the only condensing boilers actually manufactured in the United States.
Accel CS = Industry's Best Lifetime Warranty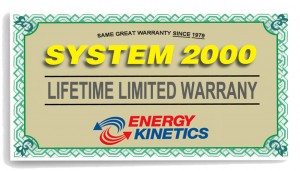 The Energy Kinetics' Warranty
If you want lower monthly fuel bills, plus a condensing boiler that lasts and is backed by the industry's best lifetime limited warranty, give Energy Kinetics a call at 800-323-2066 or email us and put Energy Kinetics' steel boilers' proven track record to work heating your home or business and start saving today!
Get Started!