Resolute™ RT and 90+ Resolute™
Exceptional energy efficiency that sidewall vents using our unique Dilution Air System, which reduces noise and eliminates staining and unreliable operation found in typical power vented systems. Or use a polypropylene liner in your existing chimney without an expensive stainless steel liner.
Resolute boilers are ideal for homes with fin tube baseboards, cast iron radiators, air handlers, and unit heaters. Homeowners who install Resolute boilers enjoy economical heat and virtually endless hot showers with lower energy costs.
Unparalleled Performance and Savings
4 Ways Resolute Outlasts and Outperforms Other Boilers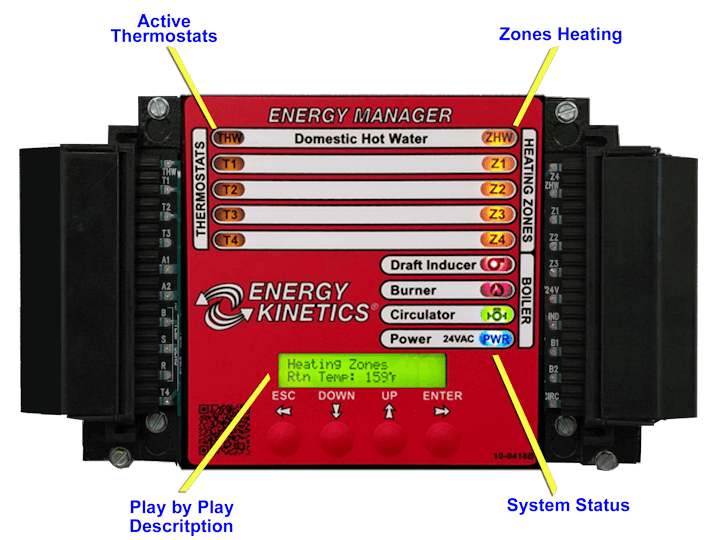 Energy Manager Warranty
The Energy Manager carries a 5-year warranty and a lifetime protection plan –
with no registration required
. Refer to the specific warranty for details.

The Brain
The world's smartest boiler!
Energy Kinetics' boiler technology outperforms and outlasts the competition. It's the boiler with The Brain, our Energy Manager.
The Energy Manager maximizes home heating efficiency, cuts fuel bills and is perfectly integrated with our low mass boiler. It heats quickly, gets the job done, then searches for left
over energy in the system and sends the remaining heat into your home or hot water storage tank.
The result is NO energy wasted!

The Water Flow
Delivering more hot water using less energy.
The Energy Kinetics boiler design combines heat and hot water into one unit.
Energy Kinetics hot water tanks use a high-performance plate heat exchanger that allows the tanks to completely heat from the top down with the energy in the boiler. Our tanks finish hot and fully charged, and the boiler finishes "cool" with no wasted heat.
Chimney or sidewall direct venting.
Installs with polypropylene venting.
The Air Flow
Attractive venting options.
Our advanced dilution air venting system means there's no need for an unreliable, noisy power venter.  It's proven technology that's generations ahead of direct vent systems still used today on some boilers and furnaces.
You can also vent our Resolute boilers up through an existing chimney with a cost effective polypropylene chimney lining system.
The System
Exceptional boilers by design.
The engineers at Energy Kinetics have deconstructed every component of the conventional cast iron boiler and used superior design and materials to recreate it as a much higher efficiency design that produces more hot water for longer. The design is also much more robust than wall hung and other combi boilers that are prone to fouling and short life from tiny flue and water passes. With dozens of improvements over traditional boilers, you will understand why it easily outlasts and outperforms the competition. These improvements include, but are not limited to the following:
The energy converter is a proven 30 year spiral design for the highest efficiency. There are no sections or pins to foul, clean, or leak.
Removable stainless steel alloy combustion chamber for clean burning operation (Resolute RT only).
13 foot flue passage boosts efficiency.
Hefty 2 inch thick insulation wrap for high efficiency and quiet operation.
Swing down door for easy access.
Advanced plate heat exchanger.
Air elimination for quiet operation.
Boiler-side Y-Strainer; Clean in Place (Resolute RT only).
High efficiency Taco circulators.
Hard water? Add a scale stopper for reliable operation (up to 25 grains of hardness) without cleaning!
How does the Resolute compare?
CATEGORY
TYPICAL BOILER
RESOLUTE
PROVIDES HEAT AND HOT WATER
Space heating and hot water for high demands and multiple showers
1) NO CHIMNEY REQUIRED
Uses dilution air system in place of unreliable noisy power venter
2) OR USE YOUR CHIMNEY
Optional "priced right" flexible polypropylene chimney liner vs. expensive stainless steel liner
SOUND LEVEL
Whisper quiet operation with included silent burner cover
PROVEN 30-YEAR DESIGN
Lifetime Limited Warranty with specially formulated steel pressure vessel
PRICE
Very competitive price with sidewall vent vs. chimney re-lining applications
EFFICIENCY
Cut up to 40% off typical boiler fuel bills with included top rated boiler and controls
INDUSTRY STANDARD PARTS
Easily serviced with standard stock parts, on board diagnostics, and automated bypass functions
HIGHEST EFFICIENCY HOT WATER & FLOW
Enjoy nearly endless long hot showers
EASE OF CLEANING AND SERVICE
Full access, hinged swing down door with no cast iron pins to foul and waste energy
MULTI-FUEL
Easy to convert from oil to natural gas or propane
More Reasons Why Homeowners Love Resolute Boilers
Non-Condensing Boiler
Less Maintenance, Longer Life
Our pressure vessel doesn't suffer from the corrosive condensate that limits the life of many condensing boilers. Plus, there's no condensate trap, neutralizer or drain required, which simplifies your installation and minimizes related service calls for years to come.
Beyond AFUE
More Savings
AFUE does not accurately rate heat and hot water systems and misses significant areas of energy loss. There are tremendous opportunities to increase efficiency over AFUE estimates alone. The Department of Energy's Brookhaven National Labs study demonstrates our design as the top performing system, saving up to 38% over boilers from around the world. Resolute boilers improve on the highest real efficiency of all systems tested, delivering even better peak and annual efficiency.
Additional Benefits
Proudly Made in USA!
Easily piped to multiple zones
5 zone control, upgrade to 15 zones including hot water
ASME certified construction
Outside combustion air connection
Cuts up to 40% or more off the home heating bills
Gas protection alarm included with every gas system
Which One Is Right for You?
Resolute RT or 90+ Resolute
Boilers Designed to Fit Your Space
Functionally, the 90+ Resolute and Resolute RT are nearly identical boilers, and they both can be piped and vented using similar methods. Selecting between these two models should be based primarily on the dimensions. The Resolute RT is a more compact design in all respects, except that it is 7" deeper than the 90+ Resolute.
Your heating professional will be glad to help you identify the correct unit for your specific application.
Get Our Brochures
Learn more and make an educated decision about tankless boilers and your heat and hot water choices.
Resolute = The Industry's Most Energy Efficient Boiler
Lower Fuel Costs While Enjoying Whisper Quiet Efficiency
If you want to lower monthly fuel bills, enjoy whisper quiet operation and get the security of the industry's best lifetime limited warranty, give Energy Kinetics a call at 800-323-2066 or email and put Energy Kinetics' boilers' proven track record to work heating your home or business and start saving today!