The 8 Truths Cast Iron Manufacturers Don't Want You to Know
Cast iron is basically steel with a high level of carbon impurities… and carbon doesn't translate into longer boiler life.
Cast iron is a brittle material which can fracture under temperature shock. It's well known that it is common for today's cast iron boilers to have cracked sections, cracked burner doors, leaking gaskets, and leaking tankless coil flange. Steel, on the other hand, is more corrosion resistant, expands and contracts easily, and is typically 50% stronger than cast iron. Energy Kinetics' boilers have no sections, gaskets, or burner doors to crack or leak.
Cast Iron Boilers' Quality Decline: Did you know years ago cast iron boilers were made two to three times thicker than today's models?  In fact, inspection reveals some have sections as thin as 5/32″. Have you considered that today's cast iron boilers may not be as durable as their past reputation would have you believe?
Cast iron is significantly more vulnerable to deep pitting corrosion than steel, and corrosion can lead to shorter boiler life.
If you need any further evidence of cast iron's inferiority, simply check the ASME codes. ASME doesn't allow cast iron boilers to be used on steam at pressures greater than 15psi or 250°F water temperatures due to limitations in cast iron properties. During design proof tests, System 2000 (a steel boiler) exceeded 700psi and the Energy Kinetics' design test team gave up before ever finding the breaking point!
Cast iron is an inefficient material for heat transfer. Did you know that every time heat or hot water is required, 450 pounds of cast iron and up to 15 gallons of water must be heated before the boiler can start heating the home? That is a lot of energy. Energy Kinetics' steel design, on the other hand, heats up more quickly, uses less energy and puts more heat into your home.
Efficiency Lost on Day One: Did you know that cast iron pin type boilers are extremely difficult to clean? In fact, even the most skilled boiler technician finds it impossible to get a cleaning brush around and behind all the pins and hidden passages. This buildup causes cast iron boilers to start losing their efficiency on day one. Our steel boilers have fully accessible and wide open passes for a lifetime of high efficiency.
The Cast Iron Boiler Warranty: Did you know that cast iron boiler manufacturers rarely cover the whole assembly and they totally ignore the gaskets (the weakest link in the cast iron chain)? Check out Energy Kinetics' industry leading steel boiler warranty.
Avoid the pitfalls of cast iron with the industry's long lasting steel boiler.
Why are commercial boilers made of steel? Because steel is typically 50% stronger than cast iron. Its densely compacted uniform structure is more corrosion resistant than cast iron. Steel is ductile, flexible and easily welded into complex shapes. It heats up rapidly, expands and contracts easily and is highly resistant to temperature shock. It's simply a better material for hot water boilers and it's this design that lasts longer and runs at higher efficiency than cast iron.
System 2000 by Energy Kinetics was not only the first steel boiler to successfully compete with cast iron boilers, but it was the first one to surpass cast iron in its energy efficiency, saving consumers money. Plus, its specially formulated steel is uniformly thicker than the 5/32" thickness now found in many cast iron boilers. Additionally, it's 50% thicker than the tubes found in most other steel boilers providing a stronger and more serviceable design with longer life.
No Wasted Energy
Yet System 2000 weighs only 160 pounds and contains just 2 ½ gallons of water. This means it can reach heating temperature must faster than cast iron and doesn't leave unused heat energy in the boiler.
Built Better, Lasts Longer
Its uni-body construction has no gaskets to leak. There are no sections. There is no tankless coil flange to leak, another primary area of failure. We simply build better boilers that are not subject to the frailties of cast iron or other steel models.
Energy Kinetics' boilers outperform and outlast cast iron and other steel boilers.
Easy Cleaning
System 2000's wide circular flue passage design permits full access for cleaning, brushing, and visual inspection. And unlike cast iron designs, System 2000 keeps its original efficiency for years.
Original System 2000s Still Running Today
System 2000 boilers installed some 40 years ago still operate at or near their original efficiency. How long will they last? The answer is simple: 40 years and counting!
Steel Boiler = Industry's Best Lifetime Warranty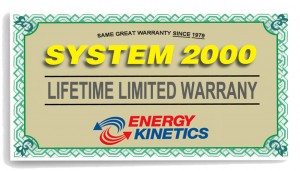 The Energy Kinetics' Warranty
If you want lower monthly fuel bills, plus a boiler that lasts and is backed by the industry's best lifetime warranty, give Energy Kinetics a call at 800-323-2066 or email us and put Energy Kinetics' steel boilers' proven track record to work heating your home or business and start saving today!
Get Started!